Still in Van Horne, TX - and Almost Ready To Leave!
Flying
Friday, April 10
Randy is wrapping up on his repair work on the Carrera and ought to be able to test fly it within the next hour or so. The hub plate for the prop was cracked, which is what caused the terrible vibrations - the prop load trying to pull the prop off! Of course, he discovered this AFTER he had the new 582 shipped to him. Yet he's happy about it, since the new engine has an electric start and he was getting jealous that I could relax while starting the engine just by pressing a lever.
Here are pictures of the cracked prop hub plate (and by the way, Randy's no longer positive that it's a WARP prop.) Also a picture of Randy and Rob, the owner of the welding shop, who let Randy use his equipment to fabricate a new hub plate.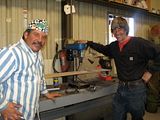 While I'm waiting for Randy, I'll answer a few more questions that I've received. Like "Where do you find a place to sleep? To eat? To get gas?"
WHERE WE SLEEP
We're never sure where we're going to end up for the night. So far, I've spent three nights in hangars, three in motels, two with friends (both just-met and already-known,) three on the tarmac under my wing, and one in a pilot lounge.
Sleeping out under the wing is great - if the wind isn't blowing too hard. When it does, my tent tends to bend and I wake up with the fabric covering me like a blanket. This is what happened at Lordsburg, NM.

The advantage of sleeping in a hangar is that I don't have to put up my tent.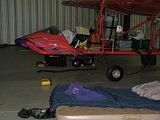 And sometimes, like in this hangar at Bermuda Dunes, they've left stuff that I can use to make a temporary desk to put my computer on. There's usually electricity too, which means I can blog.
Here's the pilot lounge at Culberson Co. Airport, Van Horne, TX, where I spent last night. Randy slept out in the hangar. All the bird droppings convinced me that I'd rather use the lounge - especially because the bathroom is right here also.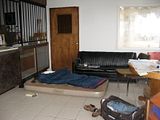 When there's no bathroom, we make do with whatever concealment we can find outdoors. That's why we carry toilet paper and a small shovel.
WHERE WE EAT
I carry my "survival rations" with me, so that if we can't find a place to eat, I can still get nutrition from my jar of peanut butter, bag of raisins, M & Ms and water. Usually we've been able to borrow a courtesy car from the airport and find a truck stop or restaurant or market for food. When there's no courtesy car, folks will almost always offer to take us into town. We can usually find somewhere to eat twice a day. I find that's plenty. Luckily, neither Randy nor I are picky eaters, which is very good, considering some of the places we're eating. We consider it wonderful when we see a Subway sign. (There are many more Subways than McDonalds, we're discovering. Which is fine with me, I prefer them to the double yellow arches.)
WE INTERRUPT THIS PROGRAM TO BRING YOU AN IMPORTANT MESSAGE!
11:00 a.m. CDT Randy just test-flew the Carrera! It sounds really good and it is handling well. YEAH! He says he's not getting full RPMs, so is going to add a little pitch to the prop.
Now, back to our program...
WHERE WE GET GAS
I've written before about how I prefer ethanol-free automobile gas for my engine, and how I'm supporting the ethanol-free premium gas coalition (e0pc.com) which is also one of my flight sponsors. It's very hard to find ethanol-free gas, and I've been glad to receive e-mails from a number of folks saying that if we stop by they will provide us with ethanol-free gas. Gary Orpe in California was able to get us ethanol-free gas, but most of the offers have been further east. SO...most of the time, we are using E-10 automobile gas, and sometimes we use airport 100LL gas. At some point I'm sure we'll be landing near a truck stop or highway gas station and taxiing up to the pumps. Unfortunately, they probably won't be pumps with E-0 gas.
A FEW EN ROUTE PICS
This is a memorial on the road to the Culberson Co. Airport, Van Horne, TX. Its poignancy touched me.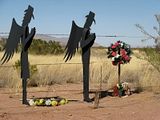 And last night we had a perfect orange harvest moon.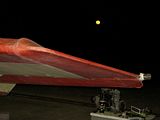 Now I'm going to start packing up. We'll probably be able to fly out in another couple of hours; Randy is changing the prop pitch right now, then he'll do another test flight. Then we'll crate up his old engine and take it into town for shipping home. And THEN we'll be on our way!