"Where do you get gas?"
Flying
"But what about when you're not flying?" That's the question that some of the folks at my office asked, when I went in to say good-by before my flight. They were interested in the flying, but most of their questions had to do with being on the ground, not in the air.
"Where do you get gas?" is one of the most frequent questions.
In all of my long distance flying, I've never had serious difficulty getting gasoline. I prefer to use "mogas" (ultralighters' affectionate term for regular automobile gas,) although often I have to use 100LL, aviation fuel, which is available at many airports.
When we're flying "out in the middle of nowhere", with airstrips often only a plowed length of dirt, we get creative. I remember once flying into Paisley, Oregon, population 247 and the home of the Paisley Mosquito Festival. There were three of us: me in my Drifter, Randy in his Carrera, and Dave in his Thundergull. We knew there was no gas at the landing strip, about 2 miles out of town. So we slowly circled the town, waving our brightly colored wings, and then slowly flew to the airstrip. Sure enough, a couple in a pick-up truck drove out to see these curious birds. After showing off our planes and answering their questions, we asked for a life into town to get food and gas. They were glad to give us a lift, but said that they had an appointment and wouldn't be able to take us back to the airstrip.
"No problem," said Randy as we came out of the restaurant. "We'll just hitchhike. You'll see, out here folks are real friendly and we'll get a ride pretty quickly" ""Hitchhike?" said Dave. "I haven't hitchhiked since I was in college." "Hitchhike?" I said. "I've NEVER hitchhiked."
We stood by the side of the road with our thumbs out, full gas cans by our side. I was also holding my helmet, which I had brought along rather than leave it in the plane. One... two... three pick-ups zipped by us. In the distance, we saw that the next vehicle was a big 18-wheeler. "Don't bother putting out your thumb," advised Randy. "These guys all work for big companies and they're not allowed to pick up hitchhikers." But I had read that most long distance truckers were friendly folks, always ready to give others a hand.
Instead of putting out my thumb, I stepped out a little ways onto the road. I held out my helmet, pointing at it and patting it. Sure enough, curiosity caused the driver to slow down and then stop, rolling down his window. I quickly explained our situation and he told us to jump in. Back at the airstrip, Randy and Dave told me they had thought I was crazy when I started patting and pointing at my helmet there in the road. But it worked!
The technique of circling a small town and then flying slowly to a place to land - on a dirt or gravel road, or a field, or a close-by, gas-less landing strip - really works. People are curious and they drive out to see what's going on and then are happy to drive us to the nearest gas station.
There are also guys who just hang out at airports. They're often retired, love to fly and love to talk flying, and instead of spending their time in front of the TV they spend it at the local airport, swapping lies about their flying exploits. They're almost always willing to take you into town for gas if the airport doesn't have gas, or if the FBO is closed. And many airports have self-serve gas pumps, so even if the FBO is closed, you can pump your own gas.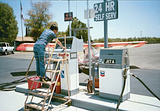 Sectionals (air maps) and Flight Guides (a book which has detailed information on individual airports) tell you which airports have gas, what type, and the hours when it's available. So when we plan our route each day, we decide where we'll stop to refuel.
So far, it's always worked.